Your oven, stove, and other cooking appliances allow you to cook healthy and delicious meals for yourself and your family. Waiting to seek oven repair when one of those appliances breaks down means spending a fortune ordering takeout or eating at restaurants, or living on microwave meals and sandwiches. Get your kitchen back in the game with professional stove repair from Fifth Avenue Appliance Service. We're your best bet for oven, stove, and range repair in Manhattan and throughout NYC. We're able to repair the oven in your home or any residential appliance in your commercial space. Whatever the reason you call us in, you can count on exceptional repair craftsmanship from a knowledgeable and skilled technician, as well as some of the lowest prices around. Contact us today!
Common oven repair issues include:
Inadequate or uneven heat
Complete lack of heat
Burners not lighting
Malfunctioning oven thermostat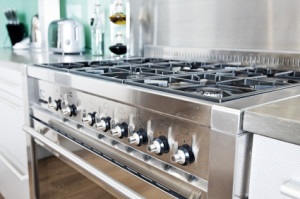 Fifth Avenue Appliance Service has what it takes to diagnose the root cause of these problems and many others, whether they stem from a broken oven door gasket or a faulty pilot light. We provide oven and stove repair for both gas and electric models, including GE oven repair and Whirlpool oven repair, so you can be sure we'll know the specifics of your brand and model. We keep an assortment of oven and range repair parts on hand, as well, so we're able to repair or replace your problem components quickly and easily. For cooktop and range repair you can trust, turn to Fifth Avenue Appliance Service.
One of the things that puts us a step above our competitors in Manhattan and the outer boroughs is our warranty packages. We offer a 30-day guarantee on labor for all of our oven repair service. We also offer a 90-day guarantee on the new parts we install. If your problem recurs after we've finished our work, call us back—we'll return to your property to repair the oven, once and for all.
Oven Installation
Fifth Avenue Appliance Service isn't just a good choice for oven and range repair. We can also install new cooking appliances in your home. When you call to discuss oven installation, we'll bring all of the necessary tools and carry out the process properly, including giving you safe and secure electric and gas connections. Because we know so much about oven repair service, you can trust us to install your new unit for best results.
For more information about Fifth Avenue Appliance Service, pick up the phone and call us now! We'll tell you about our 45 years of experience in the industry. We can also tell you about how we've become a trusted source for oven and cooktop repair in the local area, even garnering 2011 and 2012 Super Service Awards from Angie's List. Whatever questions you have about range and oven repair, or any of our other appliance repair services, we have answers. You won't regret hiring our repair and installation experts.