If you're having issues with your dishwasher, you have options other than purchasing an entirely new model. Fifth Avenue Appliance Service can provide expert dishwasher repairs that cost a fraction of what a new unit costs and will keep your existing dishwasher functioning well into the future. If you're ready to book dishwasher repair service, and you want to work with one of the most knowledgeable and experienced companies in Manhattan and the surrounding boroughs, give us a call today. Fifth Avenue Appliance Service is your solution for dishwasher repair in the local area. We'll work hard for you.
We're pleased to provide home dishwasher repair, as well as repairs for residential appliances in commercial settings. We're equipped with the skill and know-how to resolve dishwasher issues including:
Leaking
Unpleasant odors
Inability to fill
Inability to drain
Inability to start
Dishes that just aren't getting clean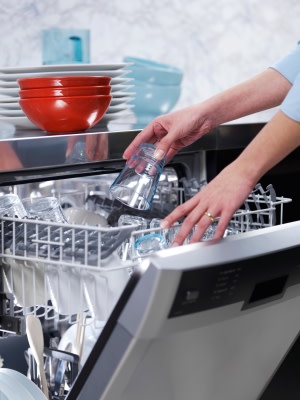 From minor issues like dishwasher rack repair to major component replacements, Fifth Avenue Appliance Service is the team to trust for capable repairs that will get your dishwasher back in action. In our 45 years in the dishwashers repair business, we've earned a reputation as a company that satisfies our customers. In fact, we earned 2011 and 2012 Super Service Awards from Angie's List, a testament to our continued efforts to provide some of the best dishwasher repairs and other appliance repairs in the local area. We stand behind our technicians' work with a 30-day warranty on labor and a 90-day guarantee on parts for your added peace of mind.
Whether you need Bosch dishwasher repair, GE dishwasher repair, Maytag dishwasher repair, or KitchenAid dishwasher repair, we have what it takes to get the job done right. We're factory-trained for these and many other brands, and we keep an extensive supply of dishwashers repair parts on hand to ensure we can provide you with efficient repairs. Call today to schedule your dishwasher rack repair, or whatever else you need! We promise to give you our best, from your initial phone call until the job is done.
Dishwasher Installation
Fifth Avenue Appliance Service isn't just home of some of the best dishwasher repairs in NYC. We also offer excellent dishwasher installation service. We'll help you hook up your new dishwasher so that it can perform at its best, immediately and long into the future. We also take into account all of the necessary safety precautions, so you can be sure your electrical connections and water lines are safe and secure.
For more information about dishwasher installation, or about Bosch dishwasher repair, Maytag dishwasher repair, or any other repairs, pick up the phone now. We're waiting to take your call.